Wine Consultants was originally set up in both the UK and in France as an advisory company, using the wine expertise of Guy Boursot.
The Boursot family has been continuously involved with wine on both sides of the English Channel since the mid-17th century. Continuing in his family's tradition of wine, Guy worked for 17 years for Berry Bros & Rudd Ltd, both buying and selling wines but left them in order to rekindle his family's old wine business of A. Boursot & Co. which he then ran for 11 years.
Guy has wide ranging experience in the wine business in both the UK and in France. He is a wine writer, lecturer, consultant, wine merchant and vineyard tour operator - and building on his solid and trustworthy reputation, he opened his own wine shop in northern France in 2006.
"Boursot's Wine Collection" has two wine shops in the Nord Pas de Calais. Its head office is in an attractive 250 year old listed building in the pretty and historic town of Ardres, just 15 minutes south of Calais. In addition, Boursot's has its warehouse and shop in Marquise, ideally situated two minutes off the A16 motorway to Boulogne sur Mer, Le Touquet and Normandy. In both locations you can be assured of receiving good, sensible advice and you can taste the wines before you decide.
All wines are personally selected by Guy Boursot to offer great quality for the price. Prices start from around £3 and of course offer you the huge savings obtained by buying in France. Assuming your purchases are for personal consumption you can bring these back into the UK without paying the UK's penal rates of duty or any other taxes, saving yourself at least £3 on each bottle of still wine and around £8 on each bottle of Champagne.
So if you are planning an event such as a party or a wedding, it's eminently sensible to hop across the channel, either with P&O or Eurotunnel, enjoy a great lunch and pick up some guaranteed quality wines at low French prices.
Once discovered, visitors regularly come back to Boursot's in Ardres or Marquise, not just for their wines but also for the very French experience that is such a contrast, and an easy hop, from southern England. The relatively little known town of Ardres has a selection of restaurants, small shops and its own lakes to welcome those who want to get away from the scrums of day trippers that only know about Calais and its hypermarkets and booze bunkers.
Informative yet fun Gourmet Dinners are also hosted in the locality, allowing customers of Boursot's Wine Collection to enjoy a complete and superior wine experience than that generally found in the north of France.
Boursot's Wine Collection also offers a wine receiving service, allowing you to order directly from your favourite vineyards for delivery to its shop, so that you can easily hop across the channel to collect your wines (still at the French duty rates).
Escape for the day or the weekend and enjoy some of the finer things France has to offer - and save yourself a fortune!
Wine Consultants and Boursot's Wine Collection offer you:
Experienced advice at whichever level you require
Guaranteed quality wines at very low French prices
The ability to taste before you buy
The choice of two attractive locations for your wine shopping
A receiving service for your favourite wines
Talks and tastings for your groups in France or the UK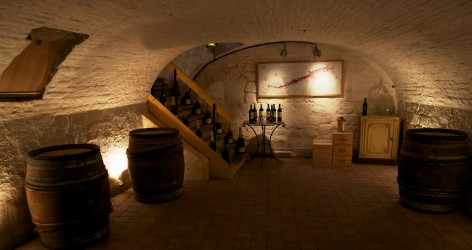 The vaulted cellar available for tastings