Newsletters
August, 2016
Bonjour!
The main headings in this newsletter are shown below.
General
Despite the recent market turmoil, currently the euro rate stands at around 1.16 to the pound.
Among all the uncertainty, nothing here has changed although we wait to see if in due course any new rules regarding freedom of goods and people might affect us. Clearly there is a possibility that the British government will raise its alcohol duty again (good news for us) but eventually re-impose "duty-free" limits of x litres of wines or spirits per travelling individual (bad news for us). Obviously we can all only hope that we do not to revert to those bad old days.
SO, please you do need to come and take advantage of our low French prices whilst you can! Even with exchange rates not quite so advantageous as they were, there are still huge savings to be had by buying your wines in France.
I was asked recently if, with a more depressed exchange rate, it was still a good idea to buy wines in Ardres. Simply, let me give you here an example with just two of our established wines at different exchange rates. For clarity, I have set out the UK pre-referendum price i.e. at the better exchange rate of 1.30€, and then have calculated prices at three different exchange possibilities, rounded as usual to the nearest 10p. You can see that the exchange rate is of relatively minor impact to the cost of your bottle; it's the penal UK duty, additional handling costs and the profit margins on these additional costs that really make the difference. Remember also that the new exchange rate is now feeding through to the prices you pay in Britain.
Pre-Brexit UK price:
Petit Pont Réserve: 4,20€
£7.15
@ 1.30€/£ = £3.20

@ 1.20€/£ = £3.50

@ 1.10€/£ = £3.80
Pre-Referendum UK price:
Mercurey, Clos Rochette,
Faiveley, 2014: 18,90€
£18.00
@ 1.30€/£ = £14.50

@ 1.20€/£ = £15.80

@ 1.10€/£ = £16.80
We should also mention that if you are concerned about falling exchange rates and have a large party to cater for, we can accept any forward payments and we will secure these against the stocks that you require. These can be paid by card (for which we have a secure link, details on request) or by bank transfer and again, we can happily forward you our bank details on request.
Actually, getting across the channel has never been quicker and easier and we still have our great £25 travel offer for you with Eurotunnel - click on the Eurotunnel logo on our home page. Thanks to recent negotiations, we are also delighted to be able to offer you as a Boursot customer advantageous rates on other fares, such as their 5 day fare as well as advantageous rates for vans. However, we have been obliged to withdraw our travel offers with P&O.
There are so many attractions in this area, whether they be museums, historical sites, sandy beaches, speciality shops, restaurants, hotels - or simply beautiful countryside. Make the most of your trip and ask us about things to do whilst over to buy your wines.
We also have our alliances with local hotels and B&Bs for those of you who would like to stay the night, and some of these may be found on this link With so many wine, travel, restaurant and accommodation offers available to you, this is a great time to come and stock up. And apart from the wine, there are of course many groceries, and diesel, that are still so much less expensive in France than in the UK.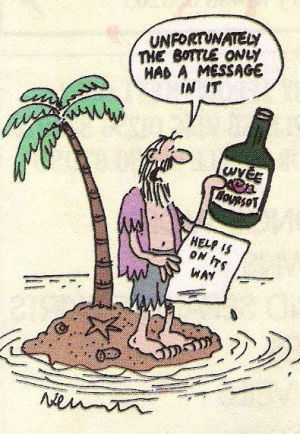 The Duty on Wine
As you may know already, the current rates of UK duty before VAT are £2.08 per bottle of still wine and £2.67 on each bottle of sparkling wine. This tax forms part of the cost price, so retailers calculate their margin on that higher cost, so the difference then becomes even greater. Add 20% VAT to both the duty and to the value of the wine and you have ... a really unhappy situation for UK wine drinkers.
With the average sale price of a bottle of wine in the UK currently being £5.03, this means that around 65% of the cost of that bottle is now consumed in tax.
In France there is only a negligible rate of duty on wine, thanks to the country being a major supplier of wine. So, its tax remains at a comparatively non-existent rate of around 3p per bottle! You get a lot more wine for your money in France. It really isn't difficult to work out.
Some of you enjoy the lower expenditure while others spend the same on your bottle as you might in the UK, but by buying at Boursot's Wine Collection, you get a far superior quality and value. With a range starting at under £3 per bottle, Boursot's has developed a reputation for offering a wide range of French wines of reliably good quality and value. Boursot's Wine Collection has taken some of the confusion and risk out of seeking and buying decent French wines, and with its British owner and English speaking staff, you will always receive good advice. And most of the time you can taste the wines as well.
On our list you get a good selection of French wines in Ardres and Marquise with some huge savings over UK prices. You can rest assured that all the wines on this list, starting at just 3,90€ (around £3.40) per bottle, have been tasted and selected by me as being "good" in their own different ways - it's then simply a question of your personal preferences and of course everyone has different tastes.
Many of you say the same thing - voiced by one happy customer not so very long ago "One has to be crazy to buy wines in England. Virtually no choice on the high street and when you can find something interesting, it's ridiculously expensive... This (coming to Ardres) is so much fun, it's so easy, we make a day of it and everyone is happy".
We host a number of high quality wine dinners at some top local restaurants - and we have some especially entertaining events coming up over the coming months. You should come, so please look in the Forthcoming Dinners section below for more details.
Remember: according to HM Customs you can take back as much wine as you like from France to Britain, provided that it's for your personal consumption. If you want to take back a lorry full of wine for your own use at weddings and parties, you are perfectly within your rights to do so.
Boursot's Marquise Shop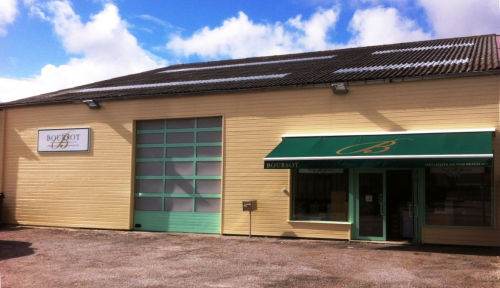 View of Boursot's from the road
Boursot's new shop warehouse is a few seconds off the A16 motorway at Marquise, north of Wimereux and Boulogne, and is a very easy 10 minute drive straight out of the tunnel. It has plenty of free parking. If you are in a rush or headed to Boulogne, Le Touquet, Montreuil, Normandy or Paris, you can of course pre-order your wines to be ready for your arrival so that you can be loaded up and on your way again within moments.
Marquise is an attractive town, and is only 10 minutes away from the picturesque seaside villages of Wissant and Wimereux with their various restaurants and with some of the finest sandy beaches of the northern coastline. Boulogne-sur-Mer too is only 10 minutes away, with all that it has to offer and moving southward the resort of Le Touquet with its golf course, shops and restaurants is another half hour further down the motorway. You will find a list of nearby places to eat and places to stay on this link.
If you are a fisherman, you may also be interested to know that the shop next door to Boursot's is a fishing specialist with an excellent array of rods, tackle and anything else you might need.
"The new outlet is larger, lots of parking, so convenient to get to, three supermarkets very close by. The town has good shops, the butcher is a must. The bar (Café des Arts) opposite the butchers is very friendly." (JB, Glos)
Opening hours for Marquise are marginally different, being Monday to Saturday 10.30 - 5.30 and it is NOT open on French bank holidays.
Introduce a Friend and you will receive a Free Bottle of Champagne!
From today for an unlimited period and as part of our upward drive (!), if you recommend us to a friend who becomes a new customer who spends more than 150€ in either of our shops and goes on our e-mail list, we will give you a bottle of our lovely Richard-Dhondt, Cuvée de Réserve champagne next time you are down in Ardres. So make sure you tell them to mention your name, so we can save your bottle!
Boursot's Reduced Eurotunnel Fares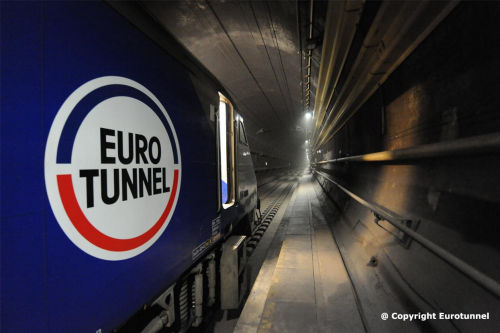 One of your ongoing benefits as a Boursot customer is reduced cross-channel fares with Eurotunnel.
We are pleased to have just extended some of your benefits of booking your Eurotunnel tickets through Boursots. For example, you can now book a ticket for travel on the same day of booking so in effect you can now wake up, look at the weather and decide that it's is a good day for coming to Ardres and book your tunnel crossing later that same day. Additionally we now have an advantageous rate if you are coming to collect your wines in a van.
Our £25 day or overnight Return Offer with Eurotunnel can be found by clicking on its logo on the home page of www.boursot.co.uk. As we have already paid for these tickets, we ask you to fill in your order and card details there in addition to your travel details. We then make the booking for you and e-mail you your booking confirmation.
We hope you find this helpful.
We had a beneficial arrangement with P&O but as they have now changed their systems to be more complex and less advantageous, we regret that we have not felt able to renew your Boursot customer offer with them.
Boursot's Hotel and Restaurant Offers
We have a list of local hotels, B&Bs, restaurants, golf clubs and places of interest on our website under the Local Info button from our Home Page.
Whilst talking about Local Info, we also list the Bank Holidays so that you do not find, on getting here, that everything is closed (except Boursot's Wine Collection of course which remains open every day except Sundays and certain days over the Christmas period).
We are very fortunate to be in an area with many good eating establishments at all different price levels, so do ask us if you would like a recommendation. These establishments have confirmed their commitments for you during 2016.

The excellent Restaurant François Premier opposite our Ardres shop is offering Boursot customers a quick two course lunch at 19€ (about £14!) with a glass of wine included. You will probably know already of the quality of this, one of the best reputed restaurants of the area and indeed you only have to look at TripAdvisor to see its reports and ratings. This Offer is exclusive to Boursot customers so we suggest you e-mail us your reservation which we can then pass on.
A new addition to our portfolio of quality hotels is Château de Cocove, just 10 minutes south of Ardres. Recently there has been major investment in refurbishing the hotel as well as raising the quality of the restaurant. During 2016 Boursot customers can receive a 15% discount off room rates. As with all our offers you need to mention Boursot's Wine Collection. Here is their impressive website: www.chateaudecocove.com.
We have also partnered with the Michelin starred Hôtel La Matelote opposite Nausicaa on the sea front in Boulogne sur Mer where, as well as its great position, the food is of notably high quality. The hotel also has a swimming pool, jacuzzi, sauna and hammam. The Offer comprises dinner for 2 (the Saveurs de la Mer menu) and a night in a "Superior" double room with 2 breakfasts. From Monday to Friday, the all-in price of dinner, bed and breakfast for two at 230€ (instead of their normal 283€) or on Saturdays and Bank Holidays at 310€ (instead of their normal 330€). www.la-matelote.com/en/
Also, you should enjoy our Special Offer from the 4 star Hostellerie de 3 Mousquetaires which is just 30 minutes' south of Ardres on the outskirts of Aire sur la Lys. Here you will find a cosy atmosphere and fine innovative cuisine. Chef proprietor David Wojtkowiak worked at the Berkeley Hotel in London and so speaks good English. The hotel also has a gymnasium. The "Three Musketeers" offer is available to you Mondays to Thursdays. Normally a room for two would cost from 115€, breakfast 15€ per person and dinner typically 45€ per person: total 235€. The offer to Boursot's Wine Collection customers is an all-in price of dinner, bed and breakfast for two at 192€. Dinner is a set option and we have heard many glowing reports from those of you who have taken up this Offer; we should point out however that if the selected choices for the dinner do not suit, you can ask for a change. When you book, you must mention Boursot's Wine Collection to get these special terms. You can call on +33 321 39 01 11 or there is a booking form on:-www.hostelleriedes3mousquetaires.com/fr/reservations.php.
Also, as a Boursot's Wine Collection customer, you have access to reduced rates at the 4 star Hôtel Château Tilques between here and Saint-Omer. The hotel has an indoor swimming pool. Here you will benefit from a special price on their superior "Luxe" room at 159€ per double or twin room (or 135€ per single room) any night of the week. While you may see a "special price" on their own or some other websites, that price excludes breakfast at 16€ per person whereas our Offer includes it. www.tilques.najeti.fr
When booking any of these Offers, remember to mention Boursot so as to get your advantageous rates.
Wine Related Giftware
Perhaps you might not expect it from your wine supplier but we have a selection of gifts for wine lovers or for your own self-indulgence, accessible on this link as well as in both our shops.
For example, our own design of Cellar Books is proving popular for those who wish to keep a record of their purchases or cellar contents. These are practical as well as aesthetically pleasing. Unlike many other types of cellar book on the market, ours are loose leaf so that you can simply take out or re-file pages of wines that have been finished. Our books are also hand bound with marbled paper and are available in three different colours. A Boursot's Cellar Book makes a fantastic gift for any wine lover.
There are some fun gift items such as USB flash drives in the form of corks, framed and unframed copies of our exclusive Nick Newman wine cartoons, wine map tea towels as well as our own design of silver tastevin cufflinks which come in an attractive wooden box. We also have decanters, Screwpull wine accessories and many more items. There is a present for anyone who enjoys wine.
Your Own Wine Events in France
Regularly we are asked to help organise various social events with a wine theme - for groups such as Golf Clubs, Rotary Clubs, U3A, Wine Clubs, Car Clubs, birthday parties, office parties, pre-wedding parties etc.
When planning your event, typically we discuss your desired objectives and work out everything from there. We are happy to liaise with restaurants and if required, hotels in our locality - anything to make your life easier!
We use several restaurants in Ardres and around the Nord Pas de Calais that can happily accommodate your needs and provide great quality food at a sensible price, and where we can provide our wines at shop prices with no cost of "corkage", assuming of course that one of us is attending. Typically a four course lunch or dinner in Ardres works out at 29€ all-inclusive and six wines work out at 8€ per person.
Depending on whether you should like it, one of us can talk a little about the various wines being served, probably concluding with some entertaining words about what's going on currently behind the scenes in the wine world. These events are always fun and they are different: with only 23 miles across that English Channel, yet a million miles away in cultural terms, people always seem delighted to get away for a complete change of scenery and for a bit of French life.
You can also enjoy tastings, presentations or general events in the vaulted cellars under our shop. This makes for a unique experience and if you should be interested in holding a private event for up to 35 people in our cellars, do say and we will be pleased to discuss your requirements and come up with some ideas.
Additionally we have been pleased to incorporate accompanied vineyard visits for some groups as part of their overall trip to France, as we are associated to a tours company. Typically a visit to Champagne going behind the scenes and meeting the producers involving two nights, two dinners, two lunches and all visits starts at around £380 per person. So do ask us if a visit to a French vineyard area could be of interest for your group - from our side, (almost!) anything is possible.
And finally, as always I am of course happy to travel to you to present wine related events, or simply to be your after-dinner speaker with a difference! I have a lot of experience in this, and this is one reason, I imagine, why many clients are good enough to ask me back to speak year after year. A recent testimonial:
"Thank you for last night, you turned the evening into a really great occasion. The phone has been ringing all day with guests thanking us, and many emails expressing gratitude. You have been described as impressive, charming, cool, very knowledgeable and the perfect presenter!!! Don't let that go to your head! Thank you so much for everything, your excellent choice of wines was echoed in the fact that the slop jugs on the tables were all virtually empty! The cost of the wines is very low and that means we can donate about £520 to our charity, which makes all the hard work worthwhile." CW - October 2015
Do please contact me on +33 321 36 81 46 or through my speaker website guy@boursot.com to explore all your options.
Forthcoming Boursot Events
Boursot's dinners are held for its British customers and so, are conducted in English. The dinners usually feature a wine-related guest speaker, whether a winemaker, a vineyard proprietor or even a wine writer! We organise everything for you, starting with pointing you towards our advantageous crossing rates with P&O or Eurotunnel, through to a bubbly reception, followed by a four course dinner designed to accompany at least five more wines. For the great majority of dinners, we block-book accommodation at the venue, so you don't need to worry about finding accommodation in the area.
All in all, the Boursot events are designed to be friendly and enjoyable and to the best of my knowledge, no other wine company anywhere offers such phenomenal value.
We take a private room where we normally restrict numbers to around 40, so as to retain a convivial atmosphere: great food, great wine and great company. Dress is not formal and we suggest that you dress as if you were going out to a smart restaurant - which we hope you will be! All you need to do is to come along and enjoy!
Vegetarian and alternative food options can of course be provided, as long as we receive some advance notice. If a planned guest speaker is unable to attend, we will endeavour to find another speaker and if none is available, Guy Boursot will present the talk.
The nearest of the Boursot's Wine Collection shops is open on the Sunday mornings after a Saturday evening dinner.
Perhaps you have an anniversary to celebrate or you just want to get away for a quick change of scenery? You are of course most welcome to bring some friends to make up a small group (normally to a maximum of eight please).
Please contact us on ardres@boursot.co.uk or on +33 321 36 81 46 to book for any of our events below. We have a number of invitations out to potential speakers and as soon as we have further news to pass on to you, we will.
Saturday 17th September: A Free Lunch and Tasting at Boursot's Marquise warehouse
We have pleasure in inviting you to a Free Lunch and Tasting between 11.30 and 3.30. There will be a cross section of our wines between £3 and £25 available for you to try.
As we shall be catering, we would be grateful if you could please let us know if you will be coming and how many there will be in your group. Lunch will comprise (French!) bread and local cheeses, patés, rillettes and salad. We will be delighted if you can join us.
As we shall be catering, we would be grateful if you could please let us know if you will be coming and how many there will be in your group. Lunch will comprise (French!) bread and local cheeses, patés, rillettes and salad. We will be delighted if you can join us.
Wednesday 28 September: Nick Newman talks about "The Wipers Times": Dinner at Hotel Château de Cocove
It is particularly appropriate in this centenary year as well as with our geographic proximity to Ypres and the Somme, that we have invited our friend (and cartoonist) Nick Newman to talk about a play that he wrote with his Private Eye partner Ian Hislop. This was shown again recently on BBC2 and for those of you who missed it, here is a very brief résumé taken from the BBC's website. It also starts on the British stage in September.
"When Captain Fred Roberts discovered a printing press in the ruins of Ypres, Belgium in 1916, he decided to publish a satirical magazine called The Wipers Times - "Wipers" being army slang for Ypres. Full of gallows humour, The Wipers Times was poignant, subversive and very funny. Produced literally under enemy fire and defying both authority and gas attacks, the magazine proved a huge success with the troops on the western front. It was, above all, a tribute to the resilience of the human spirit in the face of overwhelming adversity. In his spare time, Roberts also managed to win the Military Cross for gallantry."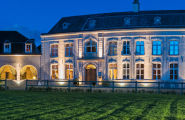 Château de Cocove

At the lovely www.chateaudecocove.com we have organised a four course dinner with six wines and the ticket price will be 79€ per head to include everything. We have blocked off superior rooms at the hotel, so please let us know if you would like a room from our allocation. Nick is hugely talented, having written so much comedy for British television and radio (My Dad's the Prime Minister, Harry Enfield, Dave Podmore and so it goes on... and on...!) whilst being cartoonist for Private Eye and The Sunday Times.

We expect this to be a popular event and urge you to respond soon.
Saturday 29th and Sunday 30th October: Boursot's 10th Anniversary: Hotel la Matelote, Boulogne
Our celebration of 10 years in Ardres has attracted a lot of bookings already. Among other attractions, there will be a large wine tasting, a gala dinner, masterclasses and a lunch, all in the presence of several of our producers. If you would like to take part, I urge you please to put your names down shortly in order to secure your reservations. There will be a maximum of 6 people per group.
Geographically, the event will be focused around the Michelin starred Hotel la Matelote www.la-matelote.com/en/ on the sea front in Boulogne sur Mer, where we have blocked off all available bedrooms for our event. There are also a number of hotels within walking distance. The dinner and the lunch will be based at Les Jardins de la Matelote which is the "hospitality" house owned by the Matelote, situated on the hill above Boulogne.
The event is taking shape and this is how it looks at the moment, although I am certain that aspects of it will be developed or refined over the coming weeks.
Saturday
| | |
| --- | --- |
| 11.00 | All day tastings at our Marquise warehouse with six of our producers with a light cheese, charcuterie and salad lunch (free of charge) |
| 15.00 | A Talk by one of the producers at the Hotel la Matelote |
| 18.30 | Gala Dinner on the Saturday night will be at Les Jardins de la Matelote. |
Sunday
| | |
| --- | --- |
| 10.30 | Individual talks and tastings by various producers at Les Jardins de la Matelote. So far subjects expected to be covered are Organic Wines, Old Alsace Wines, Blending of Champagne |
| 13.00 | Lunch at Les Jardins de la Matelote, just outside Boulogne |
Sunday 4th December: Ardres Christmas Market Lunch at the Restaurant François Premier, Ardres
So easily accessible from Britain, the town of Ardres always injects some fun and colour into an otherwise grey time of the year.
As last year, the annual Turkey Festival held about 20 minutes away in Licques, will NOT be happening on the same day but on the following Sunday. So, in place of that entertainment, we will have wines available to taste in the cellars under our Ardres shop from 10.30 on the morning of Sunday 4th, and then we will go across to lunch at 12.30 at the François Premier which hardly needs any introduction, being one of the finest restaurants of this area. Being situated on Ardres' main cobbled square, you will be in front of much of the afternoon's action, so you may be able to watch some of it from the warmth of the restaurant!
The informal three course lunch will be preceded by a bubbly reception and then accompanied by a further five Boursot wines, and everything costs just 62€ (around £43 at today's rate). I will tell you about the backgrounds of the wines being served as well as talk about the wine world's progress over the last year.
We suggest you "do" the Ardres Christmas Market after lunch by which time everyone's spirits will have been warmed up! Père Noel is normally found to be abseiling down the outside of the church at around 6pm, throwing goodies to many of the local children gathered below!
Always popular, we recommend you book early.
Views on the World of Wine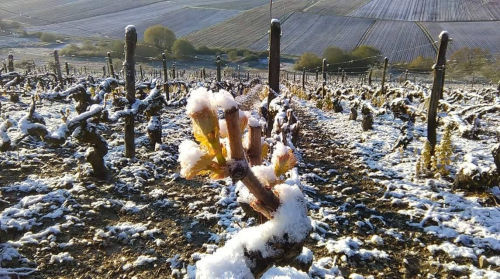 Hail in the Aube
In the last newsletter I talked of the crop devastation around some of the French vineyards this year. This was caused by frost and then by hail and yet again over the last couple of months, further hail has wiped out many of the remaining plots still able to yield a grape or two. Champagne is one such area and almost before the dampness had dried out, the media was writing about impending price increases. We will see.
In our locality of Beaune, I was talking recently with Jérôme Sordet of the excellent Domaine Coste-Caumartin in Pommard and he told me that there was not a grape intact to be found in his vineyards on the Hautes Côtes de Beaune, an area that is normally spared of such ravages and where more reasonably priced Burgundy can be produced. After three consecutive years (with the exception of 2015) of hail damage in Pommard and Volnay, he and several other producers are, to say the least, very uncomfortable. Philippe Bouzereau in Meursault told me of losing 70% of his Meursault production, but he does have vineyards in other neighbouring villages so will not be completely wiped out. The reality is that whilst producers' incomes will suffer, their fixed costs will not change much. Alain Gras told me that yes, he had lost 20% of his crop but shrugged and said "that's pretty normal!". Who could ever want to be a vigneron?
Over the last few years Burgundy prices have been rising as there is strong global demand for these precious wines crafted on tiny plots and seeing what was happening, earlier this year I decided to look around at some alternative areas for good "classic" white wines in particular. One area that really shone out to me as a provider of great (and underpriced) wine was the Rhône and we bought some gems such as white wines from Crozes-Hermitage, Saint-Joseph, Lirac, Châteauneuf du Pape, Saint-Péray, Rasteau, Hermitage and of course the famous Condrieu. If you do not know about the whites of the Rhône, I do recommend you try them and I believe you will be most pleasantly surprised. We are making up specially priced six bottle sampling cases of these wines in our shops, so please do ask about them next time you are here.
But in the meantime Burgundy, Chablis, Champagne, Cognac, Loire - all have been affected badly in 2016 so, whichever way we look at it, price rises are on the cards and we wait to see the extent of the damage.
As we tweeted recently, 2016 will probably be better known for the opening of the architecturally impressive City of Wine on the left bank of the Garonne in Bordeaux than for its harvest yields! La Cité du Vin was officially opened on 1st June by President Hollande and over the coming months, much more will be heard about this shrine to the world of wine. I hope to be visiting it in November and will let you know my initial thoughts.
The war of words was reignited recently on the tricky subject of safe drinking. On the basis that, in matters of public health, government has to be seen to be trying to look after everyone, it would seem to me as well as to many others, that there should be an element of cognisance among those who enjoy wine or indeed any other aspect of life in which too much is clearly not a good thing. For thousands of years, wine consumption has been an integral part of a meal and arguably has been a central part of civilisation.
Today's trend is that we are drinking less in real alcohol terms but there are many more people doing it and some of those attract high visibility when they misbehave.
Following widespread disquiet in the beer, wine and spirits trade, the Campaign for Real Ale (CAMRA) has called on the UK government to hold a public consultation on drinking guidelines after the recommended weekly allowance for men was dropped by seven units to the same level as women back in January. In earlier guidance published in 1995, men had been advised not to drink more than three to four units per day, or up to 21 units a week. Women by contrast had been advised not to drink more than two to three units a day, or up to 14 units a week.
There is widespread scepticism about these new guidelines and indeed scientist and award-winning writer Tony Edwards has analysed the data and to quote him "The Chief Medical Officer's warning received huge publicity - but, having looked in detail at the research into alcohol and health, I'm afraid to say she's simply wrong. Her motivation may be admirable, but her knowledge of the scientific and medical evidence is decidedly not." Read more here: www.dailymail.co.uk/health/article-3394679/Why-killjoy-new-alcohol-rules-just-plain-wrong-devastating-critique-award-winning-writer-alcohol-affects-health.html
No-one should condone senseless boozing but it can be argued that there appears to be no harm for most of us in the moderate consumption of a glass of wine or two. But it's nearly always the majority, the moderate drinkers, who are penalised because they provide such a useful proportion of the tax revenue on wine, beer and spirit duties in the UK. Does personal common sense not count for anything any more or is this "guidance" being used as a pre-cursor to yet another tax hike under the label of "the common good"? That would not surprise me.
By contrast, while on the subject of alcohol consumption, I was grateful to customer Mark O'Meara for sending me recently a copy of the latest edition of The Wildean, a journal of Oscar Wilde studies, in which author Laurence J.F. Wrenne writes: "Perrier-Jouët Brut, Oscar's favourite champagne, was an English 'discovery'. English glassmaking techniques and English tastes for only the finest champagne - the consumption was twice that of the French at the end of the nineteenth century - had enormously revolutionised both the distribution and popularisation of the drink. Most exported champagne was deliberately sweetened, a process that Madame Clicquot takes the credit for developing as a part of the process in removing the sediment from bottles and thus ridding them of cloudiness. The ejected sediment and wine was replaced with a sugar sweet dosage. The Russians were the major importers of this sweetened champagne and set the style for drinking it for decades across Europe. However Mons. Adolphe Boursot, whose wine importing business was based at 26 King Street, St. James's, London, claimed that the dry or 'brut' champagne became popular when an unsweetened champagne arrived in his warehouse by accident in 1868. Tasting it, he decided to trial it with customers and the success of this led to a whole fashion for dry champagnes thereafter. Boursot was the sole importer of Perrier-Jouët Brut and sold upwards of 70% of their production in England, receiving Royal warrants from Queen Victoria and later Edward VII. It therefore had all the snob value, brand recognition and epitome of French "joie de vivre" when Oscar endorsed it in The Importance of Being Earnest, the only branded product he mentions in all his written work. In 1894 a bottle cost seven shillings or about £35, which appears comparable to the same cost of the champagne on the high street today but is not, of course, relative in terms of wages and earnings or the cost of living.
Oscar had a penchant for the 1874 Vintage, probably to celebrate his being sent to Oxford that year and is said to have ordered several cases of the Vintage to bring into prison."
The author goes on to suggest that Oscar Wilde may actually have needed the champagne to release his creative genius and allow him to focus on his writing and thinking. But of course this became more problematic as he progressed to spirits, including absinthe and the lethal poteen - as were fashionable at that time. Such genius came at a price and it all ended at the age of 46.
Post-Referendum, the Bordeaux market perked up as investors, in particular from the US and Asia, come back to the market in search of wines from 2015 which was "better" than some of the more lacklustre years since 2010. International wine buyers took advantage of the 10% fall in the value of the pound to make their fine Bordeaux purchases, taking sales to a five year high. These Investment Grade Wines will in time be traded in the same way as stocks and shares so as to create a financial return as a part of investment portfolios. This fine wine sector, now worth over 4 billion dollars a year, is a very different market to ours!
Vineyard Tours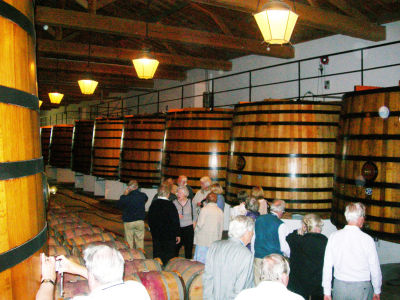 Visiting the winemaking facilities of Château Giscours in Margaux

My other company Over The Top Tours Limited creates and runs memorable trips for private groups to vineyard areas around France. Of course anyone could turn up in a vineyard area and hope to see the sites but in the main, such visits open to the public are aimed at the lower common denominator and you can pay a lot of money for not a lot of content! Over The Top Tours offers you excellent value for a trip that you have created with us.!

OTTT takes you to a variety of contrasting properties so that you can get to understand the differences within the area. If you have preferences for visits, we can often incorporate these into your trip. Otherwise we can take care of all visits, tastings, lunches, dinners, accommodation - indeed, every aspect so you don't need to worry about a thing

!

Ideally groups are between eight and 25 in number, although frequently we can accommodate groups up to 42 but inevitably larger groups attract slightly different schedules.

So if you should like to visit one of France's viticultural areas, look first at www.overthetoptours.net- your trip will take you behind the scenes in many of the great vineyard areas where you will meet and often dine with some of the producers. Alsace, Bordeaux, Burgundy, Champagne, Languedoc, Loire, Rhône and the South West are all areas that we visit and where we have great contacts who are happy to greet and inform you, as well as invite you to taste a selection of their wines.

Fine dining is also included as it goes very much hand in hand with good wine! Some tour operators will put up an attractive headline price but then you find that very little of any quality is included and I have often heard that guests appreciate the additional value that Over The Top Tours brings.

We tailor private tours specifically to your preferences, so if you have a group of friends or colleagues whom you would like to get together on a vineyard tour, please do contact me through info@overthetoptours.netand we can start working out a schedule and a budget. Do remember however that weekends, and especially Sundays, are often not good times for visits, as so many vineyards are small hands-on enterprises and do not employ teams of PR personnel to show you around!

Clearly the size of your group will determine the final cost but typically two nights away with all meals and visits start at around £370. We plan the trip with you and make all the bookings for you - so all you need do is to come along and enjoy a thoroughly memorable trip.

As you will see from our website, we also organise battlefield tours around northern France and again, these are tailor-made. Please let us know if you should like a battlefield tour, or even one tailored from half battlefield, half vineyard.

A couple of testimonials:
"People are still talking about the wine trip. Those that went have had great fun telling those that didn't just what they missed. The 49 wines tasted have somehow become 100 and the light lunches and dinners magnified out of all proportion. We must think about the next place to take them another year." JM - May 2012

"Our group of eight recently spent three days in Burgundy with the hope of trying to broaden our understanding of the wines and the region. Having used guides before we had found that guides can be overly technical and insist on telling you what they know rather than what you are interested in. Through Over The Top Tours we struck 'gold' and found their guide Ursula and in doing so found someone who really knows their subject matter but also someone who was all about making sure we enjoyed ourselves during the process as well which given our diverse group was not easy. It's fair to say that Ursula made our trip to Burgundy and we would all unreservedly recommend her and Over The Top Tours to anyone thinking of visiting Burgundy." ND - September 2013

"On behalf of the Group I would like to thank you for arranging and participating in a very enjoyable and informative trip supplemented with such an array of wines and food to suit all palates. I have only had limited feed back so far, all very positive I am pleased to report." WSFWS - May 2015

Just got home and thank you for the wonderful trip you have given us over the last 3 days. Everyone was so full of praise for you and for the excellent choice of venues, restaurants and insights into 'champagne country'. DS - May 2016



Despatching wine across France
An integral part of our service is delivering bottles or cases of wine across the whole of France on a 48 hour basis. So if you should like to send a gift to a friend or deliver some wines to an address where you will be staying, just go to our e-commerce site www.boursot.fr and, if you need it, select the English language option at the top and the rest should be self explanatory and easy.
.Delivery is currently free on orders of six bottles or more, mixed as required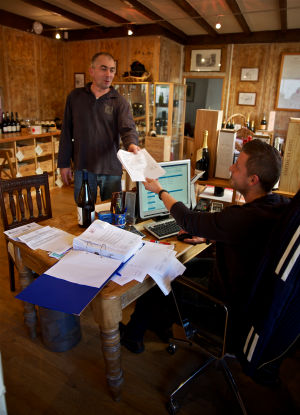 Handing over the day's despatch orders
TripAdvisor, and E-mail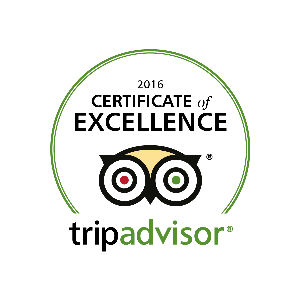 In case you thought that TripAdvisor was only for hotels and restaurants, think again! It has "Things to do" and "Attractions" sections so if you are particularly happy with what we do, please help us by telling others - by posting your comments on TripAdvisor. This link will take you directly to our page. Your positive input will be most gratefully received. In most cases, one does not know who the contributors are because they use a pen name, but to those 70 people who have already put up favourable reviews, thank you very much. I can assure you it really does help.
Hotmail.com and aol.com have particularly vicious spam filters which reject many mailshots, even though you might have requested to be mailed. So if you know of another Boursot customer who is not receiving our monthly e-mails, please ask him or her to check with us - perhaps it's because of these filters that they are not receiving our mailings, but we can also check the address that we have on file. Also, if you are about to change your e-mail provider, please don't forget to advise us of your new address so we can update your records.
Holidays
If you are returning from a holiday, Boursot's Wine Collection Ardres is situated just 7 minutes off Junction 2 of the north-south motorway, the A26. Then from Ardres to the port or the tunnel in Calais takes 15 minutes. Boursot's Wine Collection Marquise is sited just 2 minutes off the A16 between Boulogne and Calais and going on to the tunnel will then take you 15 minutes.
Boursot's Wine Collection does not close for holidays and is open as usual every day except Sundays. The Ardres shop (only) is also open every Bank Holiday - French or British (with the exception of a few days around Christmas).
Boursot's Wine List
Our list has continued to evolve over the last year and in case you had not looked recently, we have a large number of new wines. However with all the global uncertainties, we are not looking to expand our list further just at the moment. The majority of our core wines can be found all through the year.
We have improved the ordering system whereby when you click the Order Wines button, you will see an Order Form into which you can paste your choices. The SSL encrypted form self-calculates and offers you choice of collection point, of payment now or on collection and you can, if you wish, leave your card details securely here. In this way, your orders are prepared for your arrival so that if you need to be, you can be on your way in minutes. Of course we are equally happy if you stay, chat and try a few wines!
You can always see Boursot's latest list on this link and if you would like to print it as a PDF, it's easier from this link. The list is updated monthly but in the event that you see a previous version of the price list, try pressing Ctrl and F5 simultaneously on your computer so as to refresh the page.
If there is something that attracts your eye now, and that you'd like us to put on one side for you, just say and we'll be happy to arrange it.
You will also find a range of unusual sized bottles in wooden boxes, making smart gifts. For example, we have magnums and jeroboams (double magnums) of Bordeaux, Burgundy, Champagne and Minervois, many of which are in wooden boxes at very sensible prices. As with our wine-related accessories, these make impressive and unusual gifts.
At the same time, we have a number of attractive gift panniers - bottles with foods, all gift wrapped in baskets ready to give to your friends or loved ones. Some of these baskets are on display in our shops and if you like, you can make up the contents of your gift panniers to your own preferences.
In Conclusion
We are constantly being told that our offering is so much more exciting and wide ranging than the equivalent retail operation in Britain. We are proud of our wine selection which, thanks to your support, has been growing and is finding a wider audience with each passing month. Thank you and I hope that you will be able to join us at our big 10th Anniversary celebration in October – but I suggest book soon, because we have already received many reservations.
We do not advertise and it is unlikely that you will read a review on us in the British media, even though I have been told often enough that we are newsworthy! We have found that your word of mouth continues to be our best source of new customers. So, if you are happy with what we do, please help us by telling your wine loving friends (and gain yourself a bottle of champagne!), or you could refer your friends to our "Receive Monthly Newsletter" button on the home page of www.boursot.co.uk. And mention us on TripAdvisor. We will be very grateful to you.
As with all our wines, we stand by our guarantee to take back any resaleable bottles if you find that the wine is not to your taste or if you have too many bottles left over after a party.
It is very much business as normal at Boursot's Wine Collection and indeed with the various offers, this is a particularly good time to come and enjoy your wine shopping! Don't leave it too long - what are you waiting for?
Jean-Bertrand, Antoine, Bruno and I hope to see you in Ardres or Marquise again very soon, whether it's for our delicious and easy to enjoy Petit Pont Réserve wines at around £3.50 a bottle or whether it's for something more exclusive for your special dinner parties. We have them all.
A très bientôt!
With all best wishes
Guy
Guy Boursot
Wine Consultants SARL