Newsletters
February 2015
Bonjour!
The main headings in this newsletter are shown below.
General
At the moment the euro rate has now achieved around 1.35 to the pound.
As you may know already, the rates of UK duty before VAT are now £2.05 per bottle of still wine and £2.63 on each bottle of sparkling wine. This tax forms part of the cost price, so retailers have to calculate their margin on that higher cost, so the difference becomes even greater. Add 20% VAT then to both the duty and to the value of the wine and you have ... a really unhappy situation for UK wine drinkers.
In France there is only a negligible rate of duty on wine, thanks to the country being a major supplier of wine. So, its tax still remains at a comparatively non-existent rate of around 3p per bottle! You get a lot more wine for your money in France.
Some of you enjoy the lower expenditure while others spend the same on your bottle as you might in the UK, but by buying at Boursot's Wine Collection in France, you get a far superior quality and value. With a range starting at under £3 per bottle, Boursot's has developed a reputation for offering a wide range of French wines of reliably good quality and value. Boursot's Wine Collection has taken some of the confusion and risk out of seeking and buying decent French wines, and with its Brit owner and English speaking staff, you will always receive good advice. Often you can taste the wines too.
On our listyou get a good selection of French wines here in Ardres with some huge savings over UK prices. You can rest assured that all the wines on this list, starting at just 3,70€ (around £2.80) per bottle, have been tasted and selected by me as being "good" in their own different ways - it's then simply a question of your personal preferences and of course everyone has different tastes.
Many of you say the same thing - voiced by one happy customer not so long ago "One has to be crazy to buy wines in England. Virtually no choice on the high street and when you can find something interesting, it's ridiculously expensive... This (coming to Ardres) is so much fun, it's so easy, we make a day of it and everyone is happy".
We host a number of high quality wine dinners at some top local restaurants - and we have some especially entertaining events coming up over the coming months. You should come, so please look in the relevant section below for more details.
Remember: according to HM Customs & Excise you can take back as much wine as you like from France to Britain, provided that it's for your personal consumption. If you want to take back a lorry full of wine for your own use at weddings and parties, you are perfectly within your rights to do so.
Eurotunnel £20 Day Return Offer and Boursot's Reduced Cross Channel Fares
We have arranged for you as a Boursot customer reduced fares with P&O until 31st March 2015. For a day trip or overnight trip (meaning returning before midnight the following day), your return fare will be just £22. There is normally a small supplement between £3 and £5 for travelling on a Saturday.
The Afternoon Return Fare is £17, meaning departure after midday and returning before midnight. So, after buying your wines in Ardres, you should also be able to fit in some fine dining!
These special rates are exclusive to Boursot's and apply to on-line bookings for a car and up to 4 passengers and can be accessed through this link or on the Offers page of our website. Our promotional code is BOURSOT (case sensitive). As always, there may be some specific £5 supplement days but provided there is availability and that you're travelling in a standard car, you will pay these low rates.
You should book at least 24 hours in advance so as to take advantage of this P&O offer. We hope you find this helpful.
Eurotunnel is running another of its £20 day return promotions on Tuesday 17, Wednesday 18 and Thursday 19 February 2015. Click this link to access ET's offer page, although you will need to call to reserve your tickets.
In case you didn't know it already, we should point out that Tesco clubcard points can be exchanged for Eurotunnel tickets, although it may not be possible to use these in conjunction with any other Offer.
Boursot's Hotel Offers
We have a list of local hotels, B&Bs, restaurants, golf clubs and places of interest on our website under the Local Info button from our Home Page - or directly here.
Whilst talking about Local Info, we also list the Bank Holidays so that you do not find, on getting here, that everything is closed (except Boursot's Wine Collection of course which remains open every day except Sundays and certain days over the Christmas period).
We are very fortunate to be in an area with many good eating establishments at all different price levels, so do ask us if you would like a recommendation.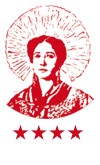 We are pleased to bring you a new partnership with the Michelin starred Hôtel La Matelote opposite Nausicaa on the sea front in Boulogne sur Mer where as well as its great position, the food is of notably high quality. The hotel also has a swimming pool, jacuzzi, sauna and hammam. The Offer comprises dinner for 2 (the Saveurs de la Mer menu) and a night in a "Superior" double room with 2 breakfasts. From Monday to Friday, the all-in price of dinner, bed and breakfast for two at 230€ (instead of their normal 283€) or on Saturdays and Bank Holidays at 310€ (instead of their normal 330€).
Also, if you are a "foodie" you should enjoy our Special Offer from the 4 star Hostellerie de 3 Mousquetaires which is just 30 minutes' south of Ardres on the outskirts of Aire sur la Lys. Here you will enjoy a cosy atmosphere and fine innovative cuisine as many of you have discovered already. Chef proprietor David Wojtkowiak worked at the Berkeley Hotel in London before setting up his own restaurants in northern France and so speaks good English. There is also a gymnasium.
This offer is available to you Mondays to Thursdays. Normally a room for two would cost from 115€, breakfast 15€ per person and dinner typically 45€ per person: total 235€. The offer to Boursot's Wine Collection customers is an all-in price of dinner, bed and breakfast for two at 192€. Dinner is a set option and we have heard many glowing reports from those of you who have taken up this Offer; we should point out however that if the selected choices for the dinner do not suit, you can ask for a change. When you book, you must mention Boursot's Wine Collection to get these special terms. You can call on +33 321 39 01 11 or there is a booking form on:- www.hostelleriedes3mousquetaires.com/fr/reservations. php
Also, as a Boursot's Wine Collection customer, you have access to reduced rates at the 4 star Hôtel Château Tilques between here and Saint-Omer. The hotel has a swimming pool. Here they are giving you a special price on their superior "Luxe" room at 159€ per double or twin room (or 135€ per single room) any night of the week. While you may see a "special price" on their own or some other websites, that price excludes breakfast at 16€ per person whereas our Offer includes it.
When booking any of these Offers, please be sure to mention Boursot to get your special rates.
Boursot's Wine Related Giftware
We have a great range of gifts for wine lovers or for your own self-indulgence, accessible on
For example, our own design of Cellar Books is proving popular for those who wish to keep a record of their purchases or cellar contents. These are practical as well as aesthetically pleasing. Unlike many other types of cellar book on the market, ours are loose leaf so that you can simply take out or re-file pages of wines that have been finished. Our books are also hand bound with marbled paper and are available in three different colours. A Boursot's Cellar Book makes a fantastic gift for any wine lover.
Our gifts are also available from Boursot's Wine Collection in Ardres, and there are some fun items such as USB flash drives in the form of corks, framed and unframed copies of our exclusive Nick Newman wine cartoons, wine map tea towels as well as our own design of silver tastevin cufflinks. We also have decanters, Screwpull wine accessories and many more items. There is a present for anyone who likes wine.
Your Own Events in France
Regularly we are asked to help organise various social events with a wine theme - for groups such as Golf Clubs, Rotary Clubs, U3A, Wine Clubs, Car Clubs, birthday parties, office parties, pre-wedding parties etc.
When planning your event, typically we would discuss your desired objectives and work out everything from there. We can liaise on your behalf with local restaurants and if required, hotels.
We use restaurants in and around Ardres that can happily accommodate your needs and provide great quality food at a sensible price, while we can provide our wines at shop prices with no cost of "corkage" to you. Typically a four course lunch or dinner starts at 29€ all-inclusive and six wines work out at 8€ per person.
Depending on whether you should like it, one of us can talk a little about the various wines being served, probably concluding with some entertaining words about what's going on currently behind the scenes in the wine world. These events are always fun and they are different: with only 23 miles across that English Channel, yet a million miles away in cultural terms, people always seem delighted to get away for a complete change of scenery and for a bit of French life.
"Many thanks for arranging our recent visit to Ardres. Everyone enjoyed themselves so much they want to come again." CW, Fetcham U3A.
You can also enjoy tastings, presentations or general events in the vaulted cellars under our shop. If you should be interested in holding a tasting or other event for up to 35 people in our cellars, do say and we will be pleased to discuss your requirements and reserve the space for you.
Additionally we have been pleased to incorporate some accompanied vineyard visits for some groups as part of their overall trip to France. Typically a visit to Champagne going behind the scenes and meeting the producers involving two nights, two dinners, two lunches and all visits starts at around £380 per person. So do ask us if a visit to a French vineyard area could be of interest for your group.
And finally, as always I am of course happy to travel to you to present wine related events, or simply to be your after-dinner speaker with a difference! I have a lot of experience in this, and this is one reason, I imagine, why many clients ask me back to speak year after year.
Do please contact me on +33 321 36 81 46 or through my speaker website guy@boursot.com to explore all your options.
Forthcoming Boursot Events
Boursot's dinners are held for its British customers and so of course are conducted in English. They usually feature a wine-related guest speaker, whether a winemaker, a vineyard proprietor or even a wine writer! We organise everything, starting with pointing you towards our advantageous crossing rates with P&O, through to a bubbly reception, followed by a four course dinner designed to accompany at least five more wines. Usually we can also arrange accommodation for you, so all you need do after dinner is totter upstairs (perhaps via the bar?)!

All in all, the Boursot events are designed to be friendly and enjoyable while offering unbeatable value. We take a private room where we normally restrict numbers to around 40, so as to retain a convivial atmosphere: great food, great wine and great company. Dress is not formal and we suggest that you dress as if you were going out to a smart restaurant - which we hope you will be! All you need to do is to come along and enjoy!

Vegetarian and alternative food options can of course be provided, as long as we receive some advance notice. If a planned guest speaker is unable to attend, we will endeavour to find another speaker and if none is available, Guy Boursot will present the talk. All our events are arranged to be enjoyable, interesting and of course, relaxed.

Boursot's Wine Collection is open on the Sunday mornings after a Saturday evening dinner.

Perhaps you have an anniversary to celebrate or you just want to get away for a quick change of scenery? You are of course most welcome to bring some friends to make up a small group (maximum 8).

Please contact us on ardres@boursot.co.uk or on +33 321 36 81 46 to book for any of our events below.

Saturday 21st March: A Fine Burgundian Evening with Maison Faiveley: Hotel La Matelote, Boulogne

We are delighted to welcome Philippe Ochin, a director of Maison Faiveley, the prestigious family owned producer based in Nuits Saint-Georges, to talk to us this evening. As mentioned here previously, the new generation of Faiveley, represented by Erwan, has steered the company in a more progressive and acquisitive way. Within the last 12 months, the company has bought two major wine producers to boost its portfolio. Philippe will tell us about the special wines at our dinner, about what is behind this drive for expansion as well as the state of then Burgundy market. As always, our speaker will be open for questions.

The Michelin starred Hotel de la Matelote hardly needs any introduction and we have found over recent dinners that their attention to detail, whether it be in the very high quality of food or the professional service has been a delight.

Our dinner will comprise four courses, and at least six wines and tickets are available at 88€ (about £65).

We have blocked off bedrooms at the hotel, so please say if you would like to take up a room from our allocation. For this occasion they are giving a special rate of 165€ per superior double room with breakfast included

.

If you appreciate good Burgundy, this is a dinner for you. This dinner is 60% sold there are still places available.

Saturday 25th April: "Dynamic Languedoc" with Geoffroy de La Besnardière at Hotel Les Trois Mousquetaires, Aire sur la Lys

Geoffroy de la Besnardière is one of the founders of the innovative Domaine de l'Arjolle near Pézenas that supplies two wines to us. The domaine produces a wide variety of wines from a broad spectrum of grape varieties and I have witnessed at first hand their dynamic attitude and quest for perfection. Proving their open-mindedness, they also make wines from some grapes that are unusual to the area, such as Carmenère and Zinfandel.

Geoffroy will tell us what has changed over the last 20 years around the south of France to make it so progressive in the world league of quality wines. No longer does one say "Just a little wine from the Midi!".

The cuisine at Les Trois Mousquetaires is always innovative and we can be assured excellent food to go with some excellent and interesting wines. We have blocked off bedrooms at the hotel, so please say if you would like to take up a room from our allocation. For this occasion the hotel is offering you a special rate of 125€ for a double room with breakfast at 12€ per person.

Our dinner will comprise four courses, and at least six wines and tickets are available at 82€ (about £61).

This will be a pleasurable evening and we feel sure that Geoffroy will be revealing several interesting facts and should prove that the Languedoc can now be recognised as a major force in quality wine production.

Saturday 23rd May: Bordeaux: Venue to be Arranged

We are awaiting a speaker to announce his intentions but we plan to have Bordeaux as the topic for this dinner. Once we have the speaker, we can arrange the venue

.

Views on the World of Wine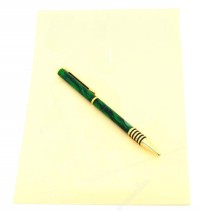 You often ask me as a wine presenter and writer to tell you my thoughts about what appears to be happening currently in the global wine market. Here is a collection of my latest thoughts.

Recently I found it less than heartening to go around some vineyards in Burgundy to see prices hardening. However if one cared to look back over the last two years, one could hardly blame the producers for trying to catch up on the financial shortfalls of the last two harvests. In 2014, in general quantity was good and quality was excellent - so much so that I have heard some recent talking up of the small and less good 2013 wines. However, there are certain villages such as Pommard and neighbouring Volnay where crops were decimated by hail in 2014 for the third consecutive year.

As predicted over recent months, Bordeaux prices are on the upward march again as interest in these wines picks up again. There has been no "major" vintage since 2010 and supplies of these IGWs (Investment Grade Wines) as well as more "drinkable" wines are becoming more scarce. Global demand just doesn't want to dry up for what we British would call "claret".

It was sad but not unexpected to hear the recent news that Vinopolis, the city of wine, on London's south bank is due to close at the end of 2015. Having read the investor statistics and projections back in 1999/2000, I felt then that the aspirations of the founders were misplaced and overly optimistic. Year after year, the site has underperformed and I am told that over recent years it has made more revenue from hiring itself out as an event venue.

The "wine experience" was, in my view, woefully lacking. If you knew anything about wine, then you could have been disappointed with the simplistic way in which the subject was presented, yet if you knew nothing about wine, why would you bother to go? It demonstrates to me how difficult it is to communicate meaningfully about a product whose sensual appreciation is by definition so personal.

Phylloxera was a pest that wreaked havoc across European vineyards at the dawn of the 20th century and since then, all infant vines have been grafted on to American rootstock which is resistant to this weevil. In my experience, few producers can agree whether the phylloxera still exists in the soil but the practice of grafting continues as standard practice. But now in the early 21st century there are some new vine diseases emerging with names such as esca, eutypa and black dead arm which attack the vine's wood. Together, these managed to eradicate 100,000 hectares of vineyard and 13% of France's wine production in 2014, and growers not just in France but all across Europe are concerned to find some cure for this disease that appears to be gaining pace.

The champagne market has lost none of its sparkle. With a 1% increase in sales in 2014 to their second highest ever level (the peak was 2007) of 308 million bottles, there is good reason why prices are edging ahead again. Despite supermarkets using champagne as a KVI (Known Value Item) loss leader to convince us that all their prices are low, it appears that sales of more expensive champagne have seen the largest increases in demand. Champagne's prime market has always been France itself and I heard a staggering statistic some years ago that 65% of total French sales were made by the glass in restaurants and bars but Vincent Perrin, the new chief executive of what was once called the CIVC, now the Comité Champagne, is predicting that exports are about to overtake domestic sales

.

France's wine consumption has fallen rapidly over recent years. The young tend not to turn to wine for their pleasures and added pressure has come from tough enforcement of the drink drive rules (and before you ask: no, it is not currently necessary for you to carry a breathalyser in your car!). This enforcement hasn't helped restaurant sales of alcohol of course but the force of action has had the good effect of reducing the number of French road traffic fatalities.

There has also been the leaching of the Loi Evin into the French psyche. This Loi (law) on alcohol and tobacco consumption was introduced in 1991 and is often held up to ridicule around France. For example, it forbids advertising of alcohol in the visual media and any references in the written media have to contain words that the abuse of alcohol can be injurious to one's health. As written here previously, France also has some powerful anti-alcohol groups who would like to ban wine tastings or even the writing of wine columns, lest anyone should be attracted to buy a bottle! And any link between alcohol and pleasure continues to be deemed illegal, as witnessed by the Côtes du Rhône's generic promotion which used "a taste for life" as its strapline! The Rhône's official body was forced to remove the offending words.

The French government feels disinclined to take up the challenge of reviewing the Loi Evin, so such anomalies and ridicule will continue - the subject of many a heated discussion in France.

Over on the other side of the world, Marlborough, which produces 75% of New Zealand's total crop, is running out of space for planting. 2014 saw record yields of Sauvignon Blanc and with fast rising export demand from the USA, the amount of available planting space of 26,000 hectares is getting close to running out. Prices too are set to rise as a result.



Wine Tourism
Whilst much of Europe has been relatively slow to catch on, nowadays France's vineyard areas in particular have really embraced wine tourism. You just have to visit Epernay, Beaune or Bordeaux to appreciate how wine tourism has been accepted and developed and whilst you can try dropping in on whoever might see you, increasingly many top domaines will only see you as part of an officially recognised group. In addition, many of the large producers have managed to dumb down their tours for visitors with absolutely no wine knowledge to such an extent that you would probably feel disappointed if you know anything about wine, as clearly you do. It is increasingly clear that you need a specialist to get you behind the doors that are closed to everyone else.
Having visited the quality vineyards over many years, I set up Over The Top Tours Ltd 12 years ago to share my experiences with groups of interested customers. So if you should like to visit one of France's viticultural areas, have a look at www.overthetoptours.net - you will be taken behind the scenes in many of the great vineyard areas where you will meet and often dine with some of the producers. Alsace, Bordeaux, Burgundy, Champagne, Languedoc, Loire, Rhône and the South West are all areas that we visit and where we have great contacts who are happy to greet and inform you, as well as invite you to taste a wide selection of their wines.
Fine dining is also included as it goes hand in hand with good wine!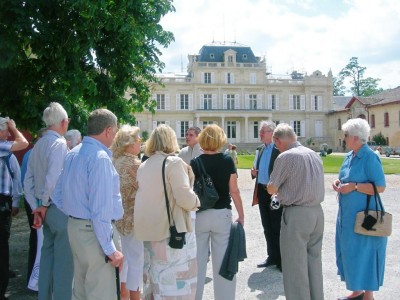 An OTTT group outside Chateau Giscours, Margaux
We tailor private tours specifically to your preferences, so if you have a group of friends or colleagues whom you would like to get together on a vineyard tour, please do contact me through info@overthetoptours. net and we can start working out a schedule and budget. Do remember however that weekends, and especially Sundays, are often not good times for visits, as so many vineyards are small hands-on enterprises and do not employ teams of PR personnel to show you around!
Ideal sized groups are between 12 and 26 adults and typically two nights away with all meals and visits start at around £370. We plan the trip with you and make the bookings for you, so all you need do is to come along and enjoy a thoroughly memorable trip.
As you will see from our website, we also organise battlefield tours around northern France.
A couple of testimonials:
"People are still talking about the wine trip. Those that went have had great fun telling those that didn't just what they missed. The 49 wines tasted have somehow become 100 and the light lunches and dinners magnified out of all proportion. We must think about the next place to take them another year." JM - May 2012
Our group of eight recently spent three days in Burgundy with the hope of trying to broaden our understanding of the wines and the region. Having used guides before we had found that guides can be overly technical and insist on telling you what they know rather than what you are interested in. Through Over The Top Tours we struck 'gold' and found their guide Ursula and in doing so found someone who really knows their subject matter but also someone who was all about making sure we enjoyed ourselves during the process as well which given our diverse group was not easy. It's fair to say that Ursula made our trip to Burgundy and we would all unreservedly recommend her and Over The Top Tours to anyone thinking of visiting Burgundy. ND - September 2013
TripAdvisor, and E-mail
In case you thought that TripAdvisor was only for hotels and restaurants, think again! It has "Things to do" and "Attractions" sections so if you are particularly happy with what we do, please help us by telling others - by posting your comments on TripAdvisor. This linkwill take you directly to our page. Your positive input will be most gratefully received. In most cases, one does not know who the contributors are because they use a pen name, but to those 44 people who have already put up favourable reviews, thank you very much. It all helps.
Hotmail.com and aol.com have particularly vicious spam filters which reject many mailshots, even though you might have requested to be mailed. So if you know of another Boursot customer who is not receiving our monthly e-mails, please ask him or her to check with us - perhaps it's because of these filters that they are not receiving our mailings, but we can also check the address that we have on file. Also, if you are about to change your e-mail provider, please don't forget to advise us of your new address so we can update your records.
Holidays
In case you should be travelling to France and wish to have some good wines available for you to enjoy while you are away, you can have your requirements delivered to your French address by going to our French e-commerce website www.boursot. fr. You will see the English language option available and the process should be self-explanatory but do call or e-mail us if you need help.
If you are returning from a holiday, Boursot's Wine Collection is situated just 7 minutes off Junction 2 of the north-south motorway, the A26. Then from Ardres to the port or the tunnel in Calais takes 15 minutes.
Boursot's Wine Collection does not close for holidays and is open as usual every day except Sundays. It is also open every Bank Holiday - French or British (with the exception of a few days around Christmas).
Boursot's Wine List
You can always see Boursot's latest list on this link and if you would like to print it, it's available on this link. The list is updated monthly but in the event that you see a previous version of the price list, try pressing Ctrl and F5 simultaneously on your computer so as to refresh the page.
If there is something that attracts your eye now, and that you'd like us to put on one side for you, just say and we'll be happy to arrange it.
We also have a range of unusual sized bottles in wooden boxes, making smart gifts. For example, we have magnums, jeroboams (double magnums) and imperials (quadruple magnums) of Bordeaux, Burgundy, Champagne and Minervois, many of which are in wooden boxes at very sensible prices. As with our wine-related accessories, these make impressive and unusual gifts.
New Wines
There have been a few new or returning wines to our list this month and indeed our selection is constantly being refined. Here are some highlights!
| | | |
| --- | --- | --- |
| WHITE | | |
| Mâcon-Solutré-Pouilly, Domaine Pascal & Mireille Renaud (Burgundy), 2014 | 9,30€ | £7.00 |
| Bourgogne Hautes Cotes de Beaune, Clos du Bois Prévot, Domaine Mazilly (Burgundy), 2013 | 11,20€ | £8.40 |
| Pouilly Fuissé, Cuvée Vieilles Vignes, Domaine Pascal & Mireille Renaud (Burgundy), 2013 | 12,90€ | £9.70 |
| Gewürztraminer, Vendanges Tardives, Robert Faller et Fils (Alsace), 2007 | 34,90€ | £26.20 |
| ROSE | | |
| Château de Pourcieux, (Côtes de Provence), 2013 | 8,20€ | £6.20 |
| CHAMPAGNE | | |
| Tribaut, Premier Cru, Demi-Sec Champagne | 21,60€ | £16.20 |
| Dom Pérignon, Vintage 1985 Champagne | 259,30€ | £195.00 |
| Belle Epoque, Perrier-Jouët, Brut Rosé, Vintage 1985 Champagne Magnum | 558,60€ | £420.00 |
In Conclusion
We are constantly being told that our offering is so much more exciting and wide ranging than the equivalent retail operation in Britain. We are proud of our wine selection which, thanks to your support, has been growing and is finding a wider audience with each passing month. Thank you.
We do not advertise and it is unlikely that you will read a review on us in the British media. We have found that your word of mouth continues to be our best source of new customers. So, if you are happy with what we do, please help us by telling your wine loving friends, or you could refer your friends to our "Receive Monthly Newsletter" button on the home page of www.boursot.co.uk. And mention us on TripAdvisor. We will be very grateful to you.
As with all our wines, we stand by our guarantee to take back any resaleable bottles if you find that the wine is not to your taste or if you have too many bottles left over after a party.
Jean-Bertrand, Antoine, Bruno and I hope to see you in Ardres again very soon, whether it's for our delicious and easy to enjoy Petit Pont Réserve wines at around £2.90 a bottle or whether it's for something more exclusive for your special dinner parties. We have them all.
A très bientôt!
With all best wishes
Guy
Guy Boursot
Wine Consultants SARL